Are you a Lip Balm manufacturer interested in improving the sustainability credentials of your product portfolios? If so, our biodegradable paper lip balm tubes are a great choice and perfect for your eco-conscious customers.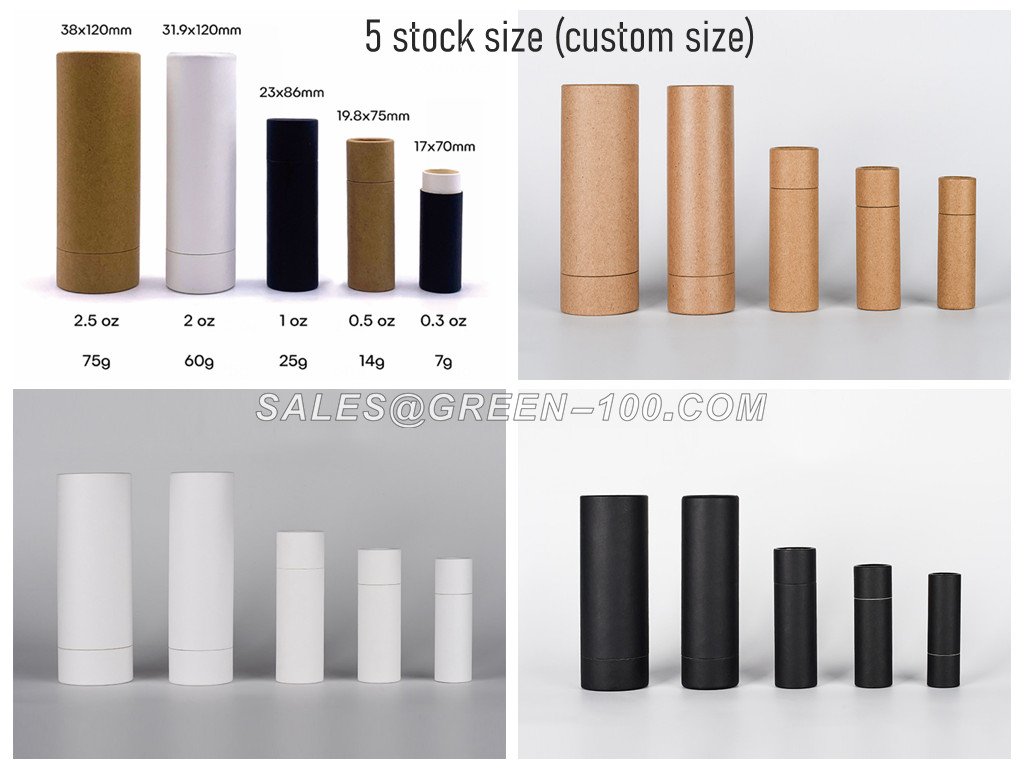 ISO9001 certified manufacturer, FSC certified supplier, China's leading eco-Friendly Biodegradable Custom Cardboard Paper Lip Balm Tube Manufacturers & Suppliers
Näytetään kaikki 9 tuloksia

Lip balm tube packaging is a growing trend in the cosmetics industry. With new all-natural and organic lip balm, lip gloss, and lipstick products hitting the market, lip balm tube packaging is a great way to reach consumers who are searching for healthier alternatives.
As paper lip gloss tube is an eco-friendly product that can replace traditional lip gloss plastic containers, it is also is a good eco-friendly promotional gift for companies.
Our 0.3OZ/0.5 OZ/1 OZ/1.5OZ/2OZ/2.5OZ standard sizes are suitable for most general occasions, such as parties, clubs, wedding events, jne…
Diameter

Height

Capacity

(

OZ/G

)
17

mm/0.8inch

70

mm/2.7inch

0.3

OZ/8.5g

19.8

mm/0.9inch

76

mm/2.9inch

0.5

OZ/14g

23

mm/1.0inch

86

mm/3.4inch

1

OZ/28g

32

mm/1.2inch

95

mm/3.7inch

1.5

OZ/42g

32

mm/1.5inch

120

mm/4.7inch

2

OZ/57g

38

mm/1.5inch

120

mm/4.6inch

2.5

OZ/70g

Väri:

Black

/

White

/

kraft paper

CMYK /

Screen printing

/

UV

/ Kohokuviointi
Ota meihin yhteyttä
Paper Lip Balm Tube Packaging can help you make a unique and private label cosmetic product in your own style that stands out from competitors.
Our Advantages:
The Most Competitive Price

Stable Quality

Fast Delivery

100%

Made in China

Eco

&

Elegant Design

Lighter Weight

&

Lower Cost

100% Kierrätettävä & Biohajoava

Eco-Friendly Paper Material

,

Safe

,

Non-Toxic

,

Fungus Resistant

Customized Size

, Väri,

Logo

& Design

We have the most advanced production equipment and technology

,

which can greatly improve production efficiency

.

environmentally friendly and affordable

.
Custom Biodegradable Cardboard Paper Lip Balm Tube
I'm sure you've heard a lot about biodegradable lip balm tubes, but do you know what it means? Don't worry, I am here to explain. Biodegrading is simply when a substance breaks down and returns to the natural environment. Tässä tapauksessa, lip balms that are labeled as biodegradable will break down into plant fertilizers.
Biodegradable cardboard paper lip balm tubes is a very innovative way to wrap lip balms since it is made from 100% recycled materials. The paper lip balm tube feels like traditional tubes and so it is no surprise that it is highly preferred by many for its feel and functionality.
At Paper Lip Balm Tubes, we believe in making a difference and going green, which is why our lip balm tubes are 100% biohajoava. Compared to the plastic lip balm containers and cardboard tubes out there, our lines paper lip balm tubes are definitely more eco-friendly and sustainable. We do not use any BPA's with our materials.
Natural Brown Kraft Cardboard Paper Lipstick Tube Packaging
Brown Kraft Cardboard paper Lipstick tube packaging is here to give any cosmetic company that comes in contact with it a larger base of potential customers due to the fact that it is recyclable, uudelleen käytettävä, and biodegradable.
These brown Kraft paper tubes have a natural kraft color and can be made in ANY quantity. These tubes are perfect for lotion, huulirasvat, solid perfume, and gift-giving!
Paper lip balm tubes are commonly used for lip balms, lip glosses, and lipstick. The paper-made lip balm tubes can be of white color, but you can easily choose the surface finish and color according to your personal preference for branding your product. These little tubes are perfect for gifting to your loved ones, especially during the party season.
The color of the lip balm tube largely determines how it will look on store shelves, particularly when you are having a great number of similar products. The color will help you to attract more customers as well as differentiate your branded lip balm tubes from other similar ones. Having said that, you do not have to go out looking for unique fonts and colors. These factors may make your products lose their appeal in terms of visibility to potential buyers on the shelf. Many entrepreneurs choose white containers because they believe that the container can be re-coated with their own brand afterward. This means that if you are currently using white containers for your lip balm tubes, it is time to think about getting some colored finishes for these containers now too. Even if you do not change the primary color of the product, it is still possible to add beautiful colors and patterns along with a message or something catchy as part of your label design process.
We put a lot of love into making what we consider to be some of the coolest and most unusual paper tubes available anywhere. Our black lip balm tubes are pretty popular with customers and they're probably one of our top sellers. They make a great impression when you hand them out as promotional items.
Black lip balm tubes are a great way to spice up your product lines. Our black paper lip balm tubes offer a classic look for any skin care or cosmetic product. Our black lip balm containers are available in several sizes and can also be printed up to 6 full-color graphics in your choice of spot gloss or matte finish ink.
Custom Biodegradable Cardboard Paper Lip Balm Tube provide you with a sustainable choice for eco-friendly consumers

.
Are you looking for an earth-friendly option to mass-produced and wasteful plastic tubes? Want to offer consumers an alternative to plastic lip balm tubes whether it's for your personal DIY lip balm venture or a business based on skincare products? Customtubepackaging.com can offer you the perfect solution: recycled and recyclable, vegan and vegetarian, biodegradable lip balm tubes that are sturdy without being bulky, something natural and earth-friendly while remaining economically viable.
Mukautettu Biodegradable Cardboard Paper Lip Balm Tube are made from the highest quality virgin cardboard so you could easily write your brand name on them. When designing your own custom lip balm tubes, you can use your brand logo or other images professionally designed for your promotional needs. Itse asiassa, we have more than 10,000 different designs! Cardboard paper lip balm tubes are built to withstand extreme temperatures and you could use them for more than a month in harsh winter weather.
These paper lip balm tubes are made with 100% recycled paper and posted with a wax-based water-soluble glue – our patented formula makes them dissolve once they come in contact with water.
We are Not a Trading Company or Agent

,

Directly Purchase From The Factory

!
Our factory has been in this industry for more than 10 years, We have plenty of experience on paper lip balm tubes, which means a lower cost for you!
We are a manufacturer and our goal is to bring people the best products in the world. We can offer high-quality lip balm at competitive prices. Hand-made lip balm you will get a moist and soft feeling, with a gently sweet flavor, and can recover from dry sensation. The tube is made of natural color film material, 100% Paper Lip Balm Tube without any harm. Everyone can enjoy the flavors of delicious handmade lip balm, that make your lips feel soft and smooth.
cardboard paper lip balm tubes bring your brand to the next level with beautiful color printing
We know how hard it is to elevate your brand to the level needed to be successful. That is why we carry a great selection of Paper Lip Balm Tubes that do that for you at a fantastic price. The customized lip balm tubes are available in a bunch of different colors and are printed with the best full-color printing technologies on the market today. Our premium printing methods ensure your logo will shine with vibrancy while also maintaining an elegant look.
100%
recyclable cardboard paper tube & environmentally friendly materials

.
Made using the finest quality recyclable paper tube & environmentally friendly materials. Lip balm tubes, also called lip care tubes, are cute and colorful. They come in all shapes and sizes, from small to large. Lip balm tube made of eco-friendly paper and biodegradable materials is the best choice for you to go green for lip care products.
At Paperiset huulirasvaputket, we believe that educating people about the benefits of protecting the environment through using recyclable products and using recycled materials is extremely important. That's why we use 100% recycled cardboard tubes to carry our handmade, hand-poured lip balms.
If you want to stand out from other cosmetic brands then the recyclable paper tube packaging is just the right choice for you! With its unique design, eco-friendly manufacturing, and recycling process, it would not only help you reduce your carbon footprint but also promote your brand image as an environmentally conscious company.
The original biodegradable paper alternative to conventional plastic lip balm tube packaging.
Durable and easy-to-use push lip balm is completely renewable biodegradable FSC certified kraft paper.
Different brands' designs are printed outside, inner white, or the same VI design, they are plants' wax liner, which is completely compostable, biohajoava, and recyclable, creating anti-polluting shielding from the outer paper.
They are portable, lightweight, and contents are easily pushed up by a disc at the bottom of the tube, about the size of the average pinky finger.